... with a Psalm-A-Day
Have a favorite Psalm? Click here to Share Why a Psalm is special for you. See what others have shared.


SBI, the software company used to build and host my three websites, is having a Special Limited Time Sale on its products.
Only available through Saturday, July 5th EST. Take a minute to check out this link if you have ever thought of having your own website or online business. Sincerely, Ellen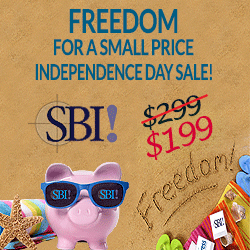 Links to daily Psalms and Affirmations (Please note - affirmations are listed at the bottom of each day's page):

Sunday, July 6 - Psalm 4
Friday, July 11 - Psalm 9:1-12
Saturday, July 12 - Psalms 9:13-20


See what others have shared about their favorite Psalms.

Psalms And Affirmations - Home Page


Psalms Personal Study Aids - Recommendations
Click here to see suggestions ... >>>
Thank you for visiting my website and for subscribing to this weekly eZine "Affirm Your Day!" Sincerely, Ellen White
My Other Websites - may be of interest to you ...
WikiSpices.com Home Page
All About Sweet Potatoes - Home Page